Spirala zamykana Double Loop Wire jest jednym z głównych produktów firmy Estyma.
Quality matters
Double loop spiral is one of the main products of Estyma. It is produced from steel wire on highly advanced Bielomatik machines. Our own nylon coating machines allow quick order processing in a wide range of colours and sizes, and regular quality control process.
Thanks to this, we are able to guarantee highest quality spirals for both manual and automated binding. The quality of our product has been proved by long-term cooperation with over 1.000 partners from Poland and all over the world.
Meeting your needs
Range of colours of spirals include: black, white, silver, blue, red, yellow, golden and green. Sizes range from 3/16" to 1 ¼" , allowing for binding up to 29 mm thick paper blocks. We can produce any kind of size of order.
In order to meet our clients' needs we offer:
spiral on spools,
spiral cut into sections,
spiral cut into A4 size and packed into boxes.
Quick delivery
Estyma guarantees quick ordering process and delivery thanks to our warehousing capacity and machines.
Dimensions of perforation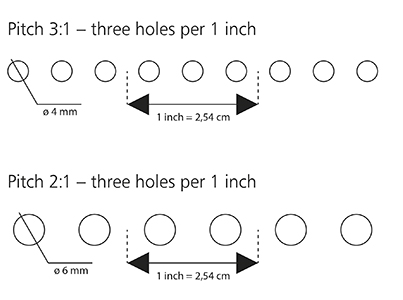 Estyma.EU
Estyma provides highest quality of its machines, devices and various products such as double loop spirals for calendars and a wide range of hangers. Our services also include calendar, paper pad and poster binding.
In the market since 1989.
ADRESS DETAILS
Polna 2b St.
05-084 Leszno
Poland
GPS:  52°15'18.7″N    20°34'57.0″E